Product Description
High Torque Clock Pendulum Movement with "C" Cell Battery
Includes: 16" Rod and you select BOB size

This high torque pendulum movement delivers more power to the hands as well as the pendulum. In fact, this movement will run our 17 1/2" balanced hands as well as a 25" pendulum!
Our HT series high torque pendulum movement operates on one "C" cell battery (not included) and will out power anything on the market today. It also includes our exclusive increased minute hand shaft length. This longer minute hand shaft helps to keep longer hour and minute hands from binding as they may on a conventional movement.
Just because this pendulum movement can operate both large hands and a long pendulum do not let that limit your possibilities. This is the perfect movement for using with wall clock designs with normal dial and hand sizes but with a long pendulum.
Dimensions: 3" w x 3 1/2" h x 1" d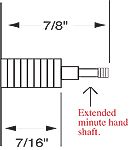 Shaft 7/16"
---
Find Similar Products by Category
---
Customers Who Viewed This Product Also Viewed